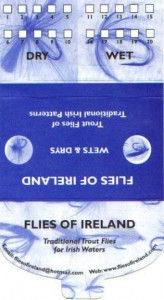 Looking for a complete collection of flies for Irish waters? Why not try one of our custom fly selections on your next trip.
Our fly selections bring together a variety of freshwater flies to fill your fly box before your next fly-fishing trip. Choose from terrestrials, streamers, nymphs and other best-selling flies and be prepared when on the water. These flies are excellent for all freshwater fishing situations.
Our custom fly selections are designed to make the anglers life easy. The flies are proven, productive patterns on the lakes and rivers of Ireland. They come in varying sizes and colors and are probably the most complete fly selections you will find for Irish waters. All patterns are hand tied by highly skilled fly tyers. Each pattern is clearly labeled and easily identified.
Our Fly Selections
The Wet Fly Selection features ten flies, one each of Sooty Olive, Black Pennell, Damsel Nymph, Connemara Black, Pearly Invicta, Bibio, Black Butcher, Bloody Butcher, Mallard & Claret and the Hares Ear.
The Dry Fly Selection features ten flies, one each of Murrough, Blue Winged Olive, Lake Olive, Claret Dun, Large Dark Olive, Royal Wulffe, Grey Sedge, Black Gnat, Daddy Long Legs and the Hares Ear Olive.
The Flies of Ireland Selection combines both wet and dry fly selections into a handy set of twenty flies that would be at home in any anglers fly box.